From the AFL-CIO - Your Rights at Work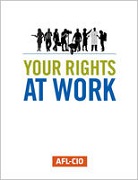 From the AFL-CIO - Working people in America have certain basic legal rights to safe, healthy and fair conditions at work. But many employers—perhaps yours—violate these fundamental rights because they value their profits more than their workers.
This site will enable you to find help if that happens to you, with links to government agencies that investigate complaints as well as advocacy organizations that assist people with related problems.
To download the full report in English or Spanish, go the to AFL-CIO site by clicking here.