Dec 01, 2013 - IBEW 21 Days of Giving Kicks-Off Today
IBEW 21 Days of Giving Kicks-Off Today
December 1, 2013
Right now, millions of Americans are struggling with hunger. Often they're children, hard-working adults and seniors who simply can't make ends meet and are forced to go without food for several meals, or even days. For 1 in 7 people in the United States, hunger is a reality.
Today, we are beginning "The 21 Days of Giving" to assist those in our communities who need our help. IBEW 21 is partnering with Illinois and Indiana food banks to help fight hunger. Each year they supply food to more than 3 million people in Illinois and Indiana.
The "21 Days of Giving" will run from today through December 21st. We are encouraging everyone to participate. We are asking all members, retirees and "friends of Local 21" to donate and volunteer their time. Stewards and volunteers are setting up areas to deposit food donations; they are also collecting cash donations in all IBEW 21 work locations. We have identified food banks in the communities where you live and work. When the drive is over we'll need your assistance delivering your donations to the designated drop off locations.
---
Meet Kate!
Watch Kate's video here.
---
Donate Online!
If you would like to help IBEW Local 21 fight hunger you can also make donations online. We are using Crowdrise so you can donate to the food banks we are assisting. To make an online donation now please click here.
Your donations will benefit the following food banks:
| | |
| --- | --- |
| Central Illinois Food Bank | Eastern Illinois Food Bank |
| Food Bank of Northwest Indiana | Greater Chicago Food Depository |
| Northern Illinois Food Bank | Peoria Area Food Bank |
| River Bend Food Bank | St. Louis Area Foodbank |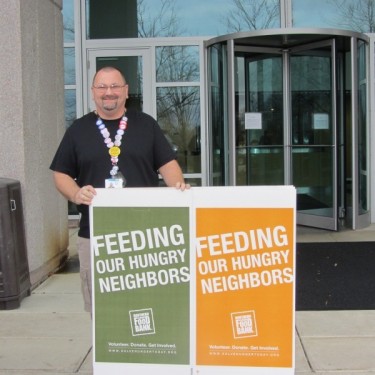 Chris Lechocki sets up in Hoffman Estates.
Donate Now Here.
---
Volunteer Today!
If you or others in your work location want to volunteer or know of an organization in your community where Local 21 members can offer their assistance please contact Bob Przybylinski or Dave Webster in the Union hall on exts. 447 & 449 or by email bobp@ibew21.org or dwebster@ibew21.org.
Stay tuned for more information as the 21 Days of Giving continues. We will be sending out email updates about the drive, the organizations we are working with and additional volunteer opportunities. Please like us on Facebook here, and follow us on twitter here, and check out ibew21.org for more "21 Days of Giving News".
Together we all will make a difference.
Forward this message

to a friend or co-worker.