Oct 21, 2011 - Don't Miss Out! Enrollment Ends Oct. 31, 2011
Open Enrollment Ends October 31st for New Supplemental Benefits
October 21, 2011 - Earlier this month, IBEW Local Union 21 announced a new Supplemental Insurance program for all members.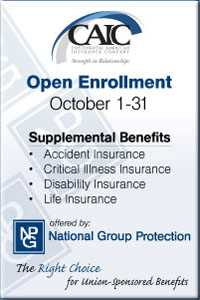 These voluntary benefits are designed to enhance and compliment your existing employer's benefit package, and to help members protect their financial well-being.
Accident Insurance

Critical Illness Insurance

Disability / 20% buy-up plan (only AT&T employed members)

Whole Life Insurance
Don't Miss Out! The open enrollment period for these benefits ends October 31, 2011.
You must elect coverage online during this period if you are interested.

More information is available on the IBEW Local Union 21 website at http://www.ibew21.org