Oct 07, 2011 - Does History Repeat? CALL to ACTION!
They Say History Repeats ...
Mass Mobilization in Chicago on Monday 10/10/2011 at 4:00pm
"When the rich concern themself with the poor, that's called charity. When the poor concern themself with the rich, that's called revolution." William Winpisinger 1981
---
October 7, 2011 - For almost one month, Occupy Wall Street protestors have expressed their frustration with Wall Street greed, capturing the imagination and passion of millions of Americans who have lost hope that our nation's policy makers are speaking for them.

Across our country, working people are similarly frustrated by the lack of job creation, lack of lending to small businesses, lack of investment into our schools and communities as our country wallows in a prolonged recession that has turned around for only the wealthiest few Americans.

On Monday, October 10th, union members will join people from all neighborhoods, of all ages, races and backgrounds, employed and unemployed, in Chicago in a kick off to a week of action to stand up and say, "America wants to work!"

If able, join us on Monday at 4pm at Federal Plaza (Adams & Dearborn) in Chicago. We'll rally and march to stand up to the banks that wrecked our economy while raking in record profits. We'll rally to reclaim lost jobs, to stop unfair foreclosures and to make sure our schools get the resources they need to prepare our children for a brighter future.

For more information on the 10/10/2011 Action, visit:
For more information on the debt crisis, taxation, the social contract, and how things got so bad:
Watch a short video of Massachusetts Senate candidate and consumer advocate Elizabeth Warren offering an in-your-face explanation of why businesses should pay their fair share of taxes. The video was taken by an audience member not affiliated with the Warren Exploratory Committee and should not be viewed as a political endorsement, only as educational and informational. It can also be found at http://youtu.be/htX2usfqMEs.
Week of Events
Also, beginning Monday, Oct. 10, 2011 the AFL-CIO's America Wants to Work initiative will bring working people together in hundreds of events through Oct. 16th to demand action from Congress to promote a real jobs creation agenda. Several actions are planned throughout our jurisdiction and can be found here. You also can sign an America Wants to Work petition to Congress here. Follow the action on Twitter with the hashtag #want2work .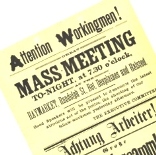 ORGANIZE - EDUCATE -
ACT!