May 18, 2012 - IBEW Continues Bargaining With AT&T
May 18, 2012 - The IBEW resumed contract negotiations today with AT&T. It is important for all members to understand that what is proposed one day can be changed the next, so throughout bargaining, if we don't say it or write it, it isn't done, locked in, or agreed to. We will try to be as clear as possible, letting you know the overall tone and attitude AT&T presents at the table, and whether we believe bargaining is progressing or not. Also, make sure you get IBEW union bargaining news and updates from the IBEW – absolutely no one speaks for us, and certainly not your boss.

On May 15th, the first day of bargaining three days ago, AT&T presented their opening statement. They gave all kinds of reasons as to why they need concessions in several areas of the contract. Enough of that! You can read our union's opening statement on our website.
At today's bargaining session,there were lengthy discussions on a variety of topics. AT&T made two proposals to the union, one on the treatment of time not worked and the other on Benefits, with cuts throughout. Our union team requested company documentation related to the proposals and will review both over the next few days. The IBEW team proposed language on the company union relationship, job classifications and union bulletin boards. AT&T will review our proposals as well.

IBEW Members Must Be Informed, Organized, and Ready to Act!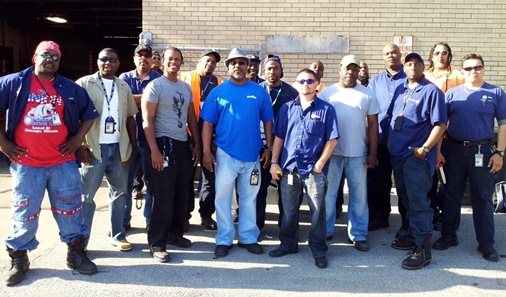 IBEW 21 members stand strong together on the first day of contract talks. Stewart Garage in Chicago, IL
Educate ? Organize ? Act
As negotiations continue, you should spend part of each day talking with co-workers about the negotiations. Everyone will be affected by the bargaining and everyone must be involved. Continue building unity at work. If you have union apparel and a union button, wear them proudly. If you want to gather outside your work locations before or after work to talk - do it. It's illegal for the boss to monitor or photograph your union activities, or to threaten anyone for participating in legal, protected union activities. If management crosses that line, write down the facts, who, what, where, when, and any witnesses. Get the information to your Business Representative promptly or to the union hall. If everyone is involved in the fight for a new contract, we move forward collectively! Our unity on and off the job directly impacts the bargaining. If members don't want to get involved or are apathetic, that impacts bargaining as well.
Follow all company rules, don't cut corners and never, ever sacrifice safety. No job is so important and no service is so urgent that we cannot take time to perform our work safely. Exercise your legal right to have a steward present in any investigatory meetings with the boss.
Black and Blue Thursdays at AT&T
We hope AT&T takes the high road in bargaining, but if not things could get ugly, with both sides getting battered and bruised. Therefore, from this day forward, on this coming Thursday and every Thursday thereafter until members vote and ratify a new collective bargaining agreement at AT&T, all members, union staff, and the union bargaining team will wear black and blue. Let's turn the workplace black and blue so AT&T feels and sees our unity from the workplace to the bargaining table. IBEW Black and Blue Thursdays at AT&T!
We will continue to update the union hotline, our website www.ibew21.org, Facebook and Twitter pages, and send out text and email messages. Sign up right now for text messages from your personal cell by texting ibew21 to the number 69866. You can also receive email and text updates by signing up on our website. The next bargaining dates are scheduled for Thursday and Friday, May 24-25, 2012.
Educate ? Organize ? Act