A Night of Bowling and Family Fun
August 12, 2015
The Michael A. Kunas Memorial Fund will be hosting "A Night of Bowling and Family Fun" on Saturday, September 26, 2015, at Diversey Bowl in Chicago. A portion of the proceeds will assist our Sister Jacqueline Thomas.
Please join us at our "A Night of Bowling and Family Fun" fundraiser. Tickets are only $30 per bowler and include pizza, pop, & shoe rental, non-bowling tickets are $15 and include pizza & pop both include a limited open bar.
Registration begins at 4:30 with bowling from 5:30 – 7:30 p.m. Please come out with your loved ones and have a great time with your fellow union brothers and sisters.
---
50/50 Raffle
We are once again holding our 50/50 raffle. Tickets are only $5 or 5 for $20. Last year's winner won over $3,000!
Contact your Chief Steward or Business Representative to purchase both raffle and bowling tickets. They can also be purchased with a credit card, by contacting Barb in the IBEW 21 Union Hall at 630.960.4466 ext. 237.
We are certain with your participation this benefit will be a memorable event. We thank you in advance for your support.
---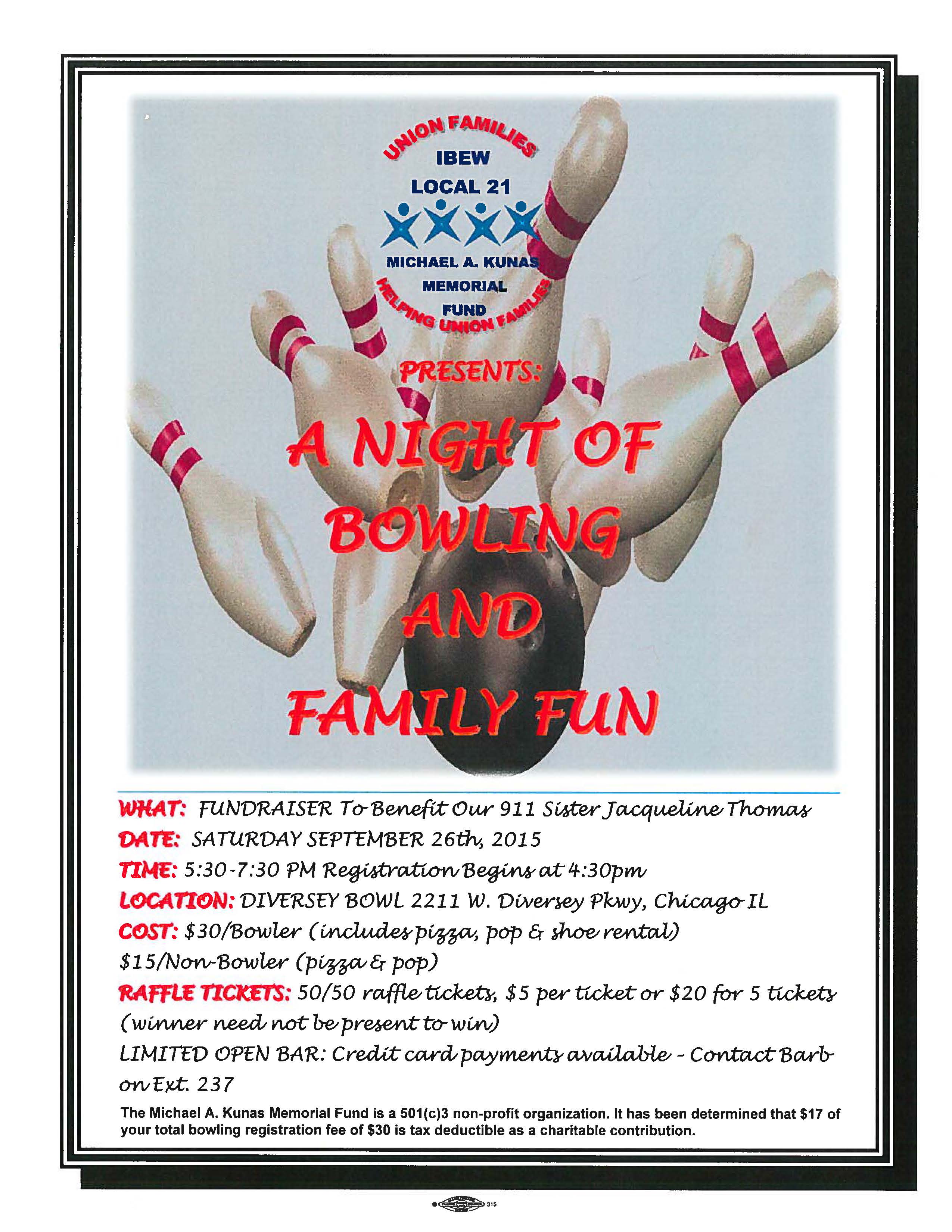 To view or print a copy of this posting click here.
City of Chicago 911 OEMC Dispatcher Jacqueline Thomas who is suffering from a brain debilitating injury caused by West Nile virus will receive a portion of the proceeds. Our Sister's benefits have been depleted, and she could really use our help. This is in the truest form of what Michael Kunas stood for, going above and beyond to help those in need, especially fellow Local 21 members.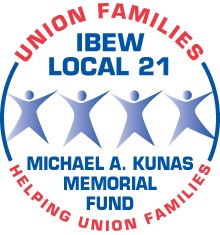 In 2010, the Michael Kunas Memorial Fund was created to honor the memory of our brother and Business Representative who passed suddenly from a massive heart attack. In Mike's name, the Fund hosts fundraising events to assist those who have experienced great tragedy or loss in their lives.
The Michael A. Kunas Beneficiary Committee was formed to select recipients of the Fund which is solely sponsored by voluntary donations. Over the years we've been able to aid union families who endured major setbacks or losses.
The Michael A. Kunas Memorial Fund is a 501(c) 3 non-profit organization.
It has been determined that $17 of your total bowling registration fee
of $30 is tax deductible as a charitable contribution.