Solidarity Events – Toys- Coats – Union Meetings
November 10, 2015
Union meetings start tonight. Find out what is going on in your Union by attending a meeting. A complete listing of all of the meetings can be found here. Please bring a toy or coat to the meetings to donate.
---
Toy & Coat Drive
We will be holding our 2nd Annual IBEW 21 Days of Giving Toy and Coat Drive November 16th – December 6th. We will be sending out more information about the drive along with a list of gift ideas. We are asking all members to donate toys and coats and a minimum of $1 per member per work location.
Please start preparing for the Drive this week by setting up a collection area in your work locations and hang a bulletin board posting on your Union board. You can download one here.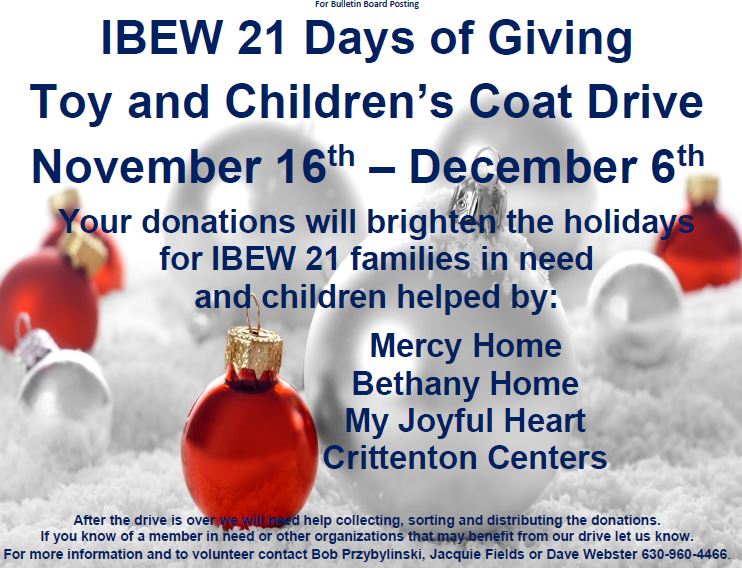 Print this posting here.
---
Holiday Solidarity Events
We will be holding several Holiday Solidarity Events where we can join with our Sisters and Brothers to help kids in need who live in the areas where we live and work.
My Joyful Heart
Saturday, December 5th 10:00 - Noon
9981 West 190th St. Suite I, Mokena
Help is needed packaging gifts for their children.
Mercy Home
Thursday, December 10th 6:00-9:00 pm
1140 W. Jackson Blvd. Chicago
Help the children celebrate the holidays at their Christmas Party.
Crittenton Center
Wednesday, December 16th 9:00 - Noon
442 W. John Gwynn Jr. Ave. Peoria
Santa will be visiting and he needs IBEW 21 helpers!
Crittenton Center Stocking Stuffer Store - Northwoods Mall
December 4- 20, 2015 – Various Times
Crittenton Center Stocking Stuffer Store -Shoppes at Grand Prairie
December 5th & 6th, 12th, 13th, 19th & 20th - Noon - 5p.m.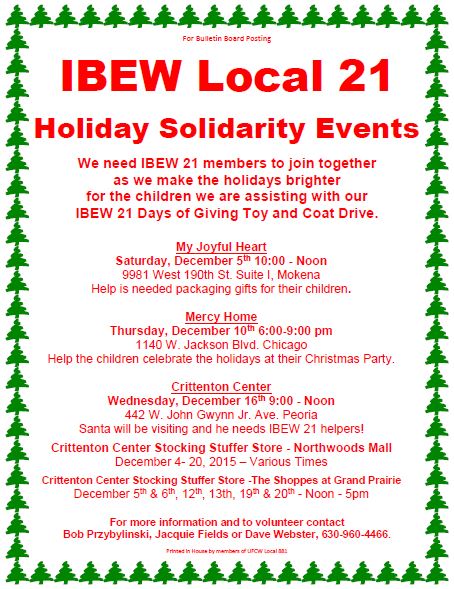 Print this posting here.
For more information about the Drive and to volunteer please call Recording Secretary Bob Przybylinski in the Union hall at 630-960-4466 ext. 447 or on his cell 708-404-0417 or email him at bobp@ibew21.org, you can also call or email Treasurer Jacquie Fields or Business Representative Dave Webster.