March For Kids Solidarity Events!
IBEW 21 members, retirees and their families have been asked to help spread awareness about the plight of abused, neglected and abandoned young people. Please join your IBEW 21 sisters and brothers by volunteering.
We will March for Kids to help the children served by Mercy Home. March for Kids is Mercy Home's annual campaign centered on building awareness of the plight of the children in their care. Every March, thousands of volunteers take to Chicago's streets to raise critical funds that give Mercy Home's kids a safe, loving home, clothing, meals, and a warm bed away from traumatic pasts.
If you can join us please reply to this email or email Recording Secretary Bob Przybylinski or Business Representative David Webster. You can also call them in the IBEW 21 Union Hall at 630-960-4466 exts. 447/449.
Saturday March 5th
Forest Park St. Pat's Parade - 7244 Madison St., Forest Park,
Sunday, March 6th
Tinley Park St. Pat's Parade - 6707 W. 175th St., Tinley Park
Saturday, March 12th
Chicago St. Patrick's Day Parade - 720 S. Michigan Ave., Chicago
Sunday, March 13th
South Side Irish Parade - 10421 S. Western Ave., Chicago
Sunday, March 13h
Northwest Side Irish Parade – 6333 N. Northwest Highway, Chicago
Wear your union gear, and have a great time- the kids are counting on you!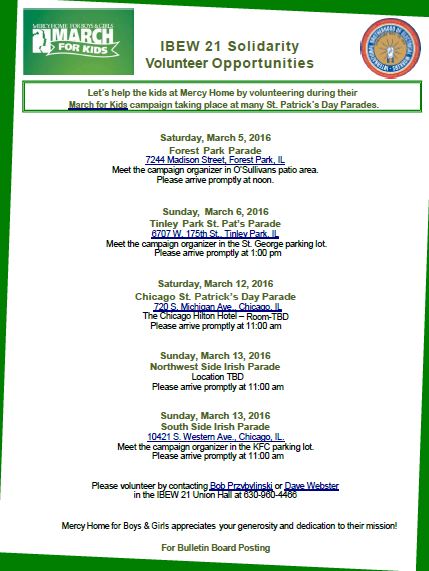 Please printout this bulletin board posting which has more information about the parades and place it on your union board, then talk to your coworkers about the March for Kids.
Together IBEW 21 members are making a difference in the communities where we live and work.