Help! Striking IBEW Verizon Members
May 13, 2016
We are asking you to please donate to the IBEW Unity Fund to help IBEW Verizon members.
Our Brothers and Sisters who have been on strike at Verizon since April 13th desperately need your assistance. After being out on strike for over a month these courageous members have now lost their health care benefits.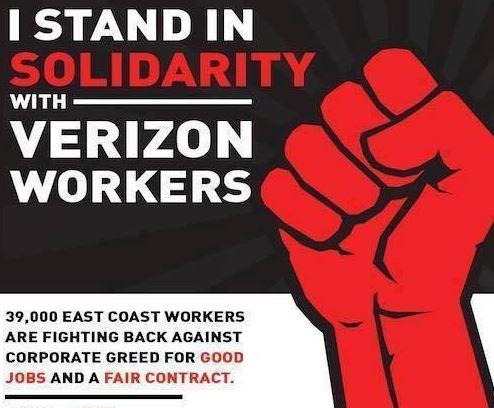 Despite making over $39 billion in profits over the last three years, Verizon has demanded major cutbacks from employees, while refusing to consider hundreds of millions of dollars in health care savings offered by IBEW negotiators.
Our International President Lonnie R. Stephenson stated "We've been more than willing to work together with management to find ways to cut costs. But this isn't about saving money. It's about gutting good middle-class jobs and pushing a corporate race to the bottom for working families." Read more here.
This fight is about all of us!
You can contribute to the IBEW Unity Fund by visiting the donation page we set up for IBEW 21 members, retirees, and friends of our Local. Please donate now by clicking here.
We Stand in Solidarity with our Sisters and Brothers!