Endorsements - Early Voting - Yard Signs - Stickers
IBEW 21 members have strength in numbers we must use our strength to win the good pay, retirement security, safe work environments, broad access to quality education for our children and much more. By mobilizing through our get-out-the-vote effort, IBEW 21 members can elect candidates who support and will enact a working families' agenda so we all can move forward together.
Union Families must register to vote, volunteer to help the friends of Labor and then get out to vote on Election Day. We do make a difference. After all of the campaign rhetoric we must elect the candidates who best serve the interests of working people. We must not let wedge issues divide us.
IBEW Local 21 supports our friends, those candidates who stand with working families and will punish the enemies of working families.
---
November 2016 Election Endorsements
The document below is the list of Labor's endorsed candidates from both sides of the aisle in Illinois and Indiana whom Labor is supporting. These candidates believe in a strong middle-class and they previously voted to help you with important issues that affect you at work and as union members.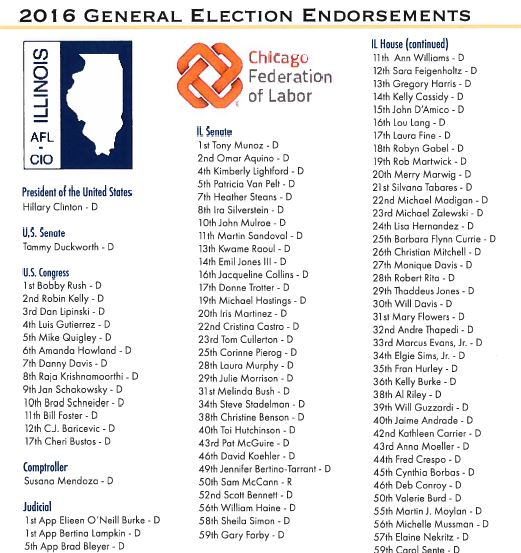 Print a copy of the endorsements by clicking here.
The candidates were vetted and met the requirements necessary to obtain an endorsement from the unions including the IBEW who are affiliated with the Illinois and Indiana AFL- CIO as well as the Chicago Federation of Labor.
The list also includes some candidates in local elections, judges and ballot referendums. Please refer to the list when voting. You can print it and take it to the polls with you on Election Day.
---
Show Your Support & Volunteer!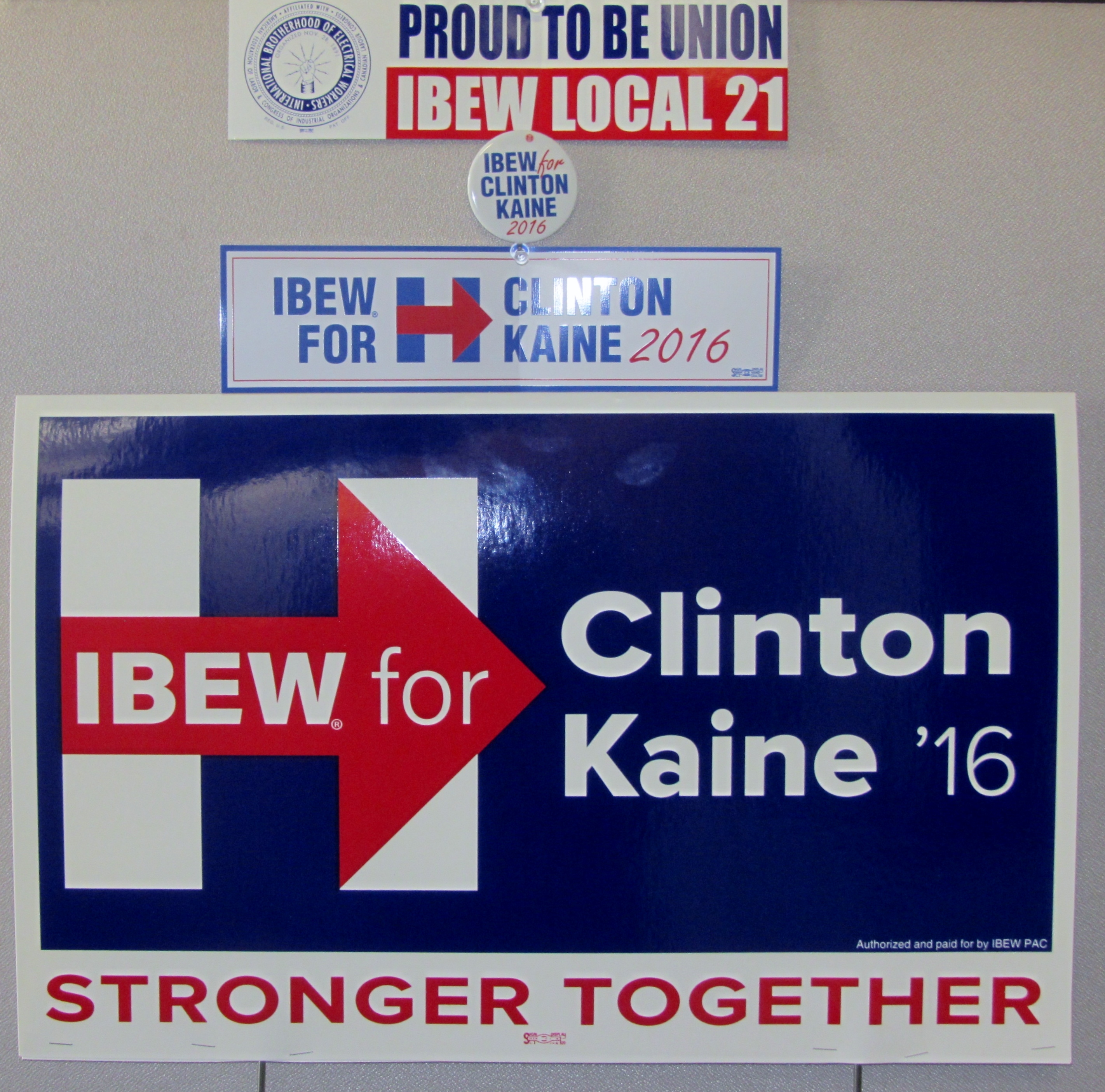 Get your yard signs, bumper stickers, and pins by contacting IBEW 21 Cope Director Dennis McCafferty or your Chief Steward or Business Representative. If you would like to help out in a campaign or on Election Day please contact Dennis today.
---
Illinois Early Voting & Vote by Mail
Voting by mail is an option for Illinois voters to cast their ballot prior to Election Day. Voters can request a vote by mail ballot through the mail or in person. The first day to file an application for a vote by mail ballot with the Election Authority is 08/10/2016. All requests by mail must be received by the Election Authority by 11/03/2016. All in-person early voting requests must be made by 11/07/2016.
More information on early voting by mail and in person as well as early voting location can be found here.
Illinois Online Voter Registration
In Illinois you can register to vote online. Information about online voter registration can be found here.
Illinois Voter Registration Applications
You can print out a voter registration application by clicking here. Mail or deliver the application to your County Clerk or Illinois Board of Election Commissioners no later than 28 days before the next election.
If you are not registered to vote in Illinois please register today.
---
Indiana Early Voting & Voter Registration
Indiana in person early absentee voting begins on Wednesday, October 12th and runs thru Monday, November 7th. Information on voting in person and by mail in Indiana can be found here.
Indiana Online Voter Registration
Indiana residents with a valid Indiana driver's license or Indiana state-issued identification card will be able to submit a new voter registration application or update an existing voter registration record online .
Information about online voter registration can be found here.