Time to Celebrate – Read Frontline!
November 3, 2016
The Cubs have finally won the World Series the best way to celebrate is to read the latest edition of Frontline. Ok - maybe it is the third or fourth best way.
Now that we have your attention we just wanted to let you know that the October issue of Frontline is working its way through the postal system. The issue went to print prior to this week's announcement about the agreement to resolve the AT&T surplus. Please keep that in mind if you read an article that mentions the surplus.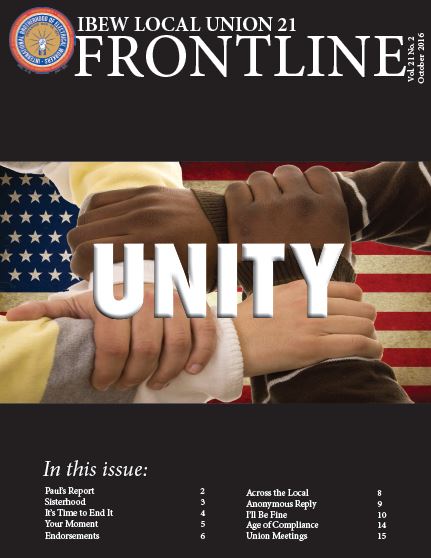 Read the latest edition and archived
editions going back to 1947 here.
---
Union Meetings Start Next Week!
Please note that the Unit 1 meeting will be at Gideon Welles at 4500 N. Lincoln Ave. in Chicago. Meetings will no longer be held at IBEW Local 134's union hall because they sold that property. A complete list of the meetings can be found here.