Get Your Kunas Fundraiser Tickets at Union Meetings
July 12, 2017
You can get your 50/ 50 Raffle tickets and game tickets to help our Sister Amanda Johnson at the July Union meetings! Dates and times for the meetings can be found here.
Join us on Sunday, August 6th

at a Gary Southshore Railcats Baseball Game. The proceeds of the event will benefit our Sister who lost her husband to a sudden heart attack shortly before the birth of their first child. Tickets are only $10, game time is 2 p.m.
The Kunas Committee is also holding a 50/50 raffle. Our last winner won over $4,000!
If you can't make it to a Union meeting you can purchase your tickets here!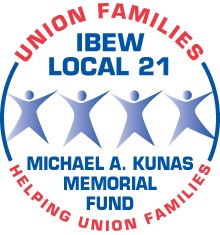 The IBEW 21 Michael A. Kunas Beneficiary Committee holds solidarity events like these to assist IBEW 21 members who have endured major setbacks or losses.
Complete event information can be found here.
Order All Your Tickets Now Here!