Give Your Time – Mercy Home Needs Holiday Volunteers
November 28, 2017
It is "Giving Tuesday" and we are asking our members to give in a different way today. It is time to volunteer for IBEW 21's most popular community service activity the Mercy Home Aftercare Christmas Party.
Mercy Home for Boys & Girls in Chicago needs IBEW 21 volunteers to help out at their Aftercare Christmas party on Thursday, December 21st from 5:30 p.m. - 9 p.m. They need us to fill a number of roles such as setting up, guest check-in, assisting with kid's activities, the toy table and helping Santa.
If you are available to volunteer, please contact IBEW 21
Recording Secretary Bob Przybylinski at
Last year's event drew an incredibly large crowd for dinner, and of course, a visit from Santa. They hope the event this year will be just as successful, and that is why they need your help.
When: Thursday, December 21, 2017
Where: Mercy Home for Boys & Girls
Hay Campus(Soccer Building)
1140 W. Jackson Blvd.—Chicago, IL 60607
Time: 5:30 p.m. — 9:00 p.m.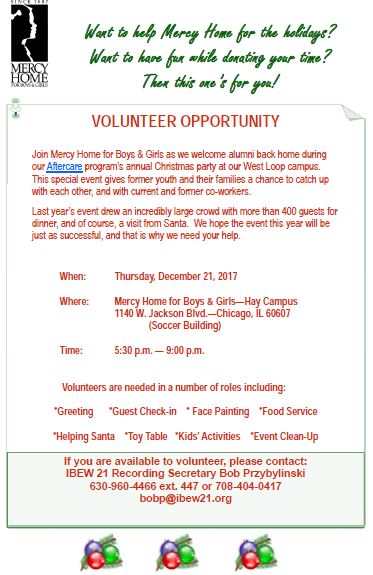 Please print the above flier and
talk to your coworkers about volunteering.
If you can't make it and would like to brighten the holidays for a child in need